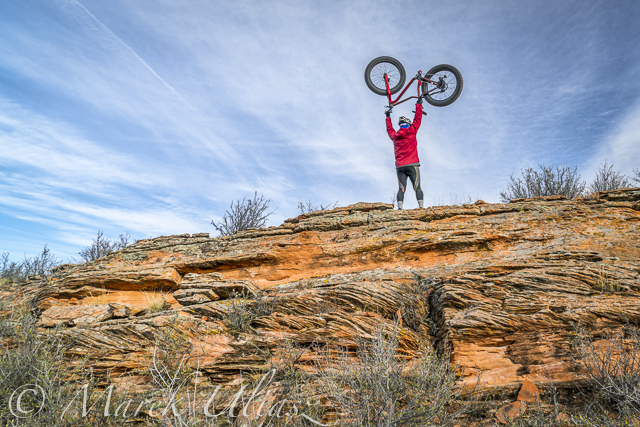 I enjoy a variety of outdoor activities. Of course, paddling in different flavors (SUP, kayak, canoe, packraft) comes first. It includes long distance racing. But, there is also biking, hiking, inline skating, drone flying and 4WD driving. The common theme here is a camera. I always have camera (or cameras) with me. It may be a small waterproof
Olympus Stylus TG-5
or
GoPro Hero5
. Whenever possible I am hauling one of my mirrorless Sony cameras,
A7R2
or
A6000
with a light tripod.
After ChattaJack, my last paddling race, I shifted more towards hiking and biking. I've got a new toy: a fat bike, 2017 Salsa Mukluk GX1, ordered online from REI. It is my first bike with a carbon frame. As expected, it's a lot of fun to ride that monster.
I started riding my fat bike in lower trails of Lory State Park and Horsetooth Mountain Open Space. Then, I continued to explore Red Mountain Open Space and Soapstone Prairie Natural Area.
More pictures and, probably, video clips will come, but here are 10 images from my first 2 weeks of fat biking in northern Colorado. All pictures were shot with Sony A7R2 camera on a tripod.For selfies I use that camera with time lapse application.

Should I treat my tubes with
Slime Sealant
or just go straight for tubeless?
I have not been riding the Soapstone for a couple of years. Recently, I revisited Mahogany and Pronghorn Loops, and Cheyenne Rim Trail. There are some new features. (1) The lower, 3 mile portion of the Cheyenne Rim trail was rerouted to make room for bisons. Now, it is all a single track, a little bumpy due to rocks and cattle footprints. (2) Most of numerous gates are now equipped with cattle guards, so you don't need to stop.
Red Mountain and Soapstone will be closed December-February, so I hope to get a few more rides there in November.
Soapstone is my favorite location for mountain biking nowadays. Red Mountain offers betters photography opportunities. I love trails in the Horsetooth area, but somehow, they became steeper and more rocky than they used to be 25 years ago …
I've found REI MTB Project a very useful resource for planning biking trips. I added a few pictures from my recent riding to their gallery.
Are you riding a fat bike in Fort Collins area? What are your favorite trail in northern Colorado?
Did you like this? Share it: