A month ago Olympus introduced a new model to the line of their waterproof and shockproof cameras: Stylus 1050 SW. It features a brand new digital camera feature – Tap Control. Tap Control is intended to help photographers wearing gloves access camera controls.
The Stylus 1050 SW camera can be controlled with a simple tap on its top, back or sides, which is made possible thanks to the new camera's 3D accelerometer that detects the direction of the force on the camera's body. For example, to turn on the flash or Shadow Adjustment Technology, tap the camera's side twice.

I have found three reviews of the new camera. There are rather moderately enthusiastic, but Olympus Stylus SW has its fans.
Unless you're dead set on a ruggedized or waterproof camera, there are plenty of options that will deliver sharper 10.1-megapixel shots and a lot less shutter lag than the Olympus Stylus 1050 SW, including the Canon PowerShot SD790 IS or the Sony Cyber-shot DSC-T300. If you need a waterproof shooter, the Stylus 1030 SW offers better-looking images (but for a steep $400). If you've been holding back on taking shots on the ski slopes or just want more nimble controls, however, the 1050 SW's innovative tapping controls might appeal to you. Just don't expect speed or stellar shots.

Without doubt the main attraction of the Olympus MJU 1050SW is its ro

bustness. If you are looking for a family camera or just one you can use around the pool and on ski slopes then the picture quality is fine for snapshots. It is a concern that the camera is so slow to take a photo and this could certainly cause you to miss photo opportunities.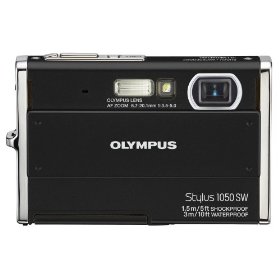 While the 1050SW has some excellent features for casual swimmers, skiers and action lovers, the older 1030SW is a more robust and tough camera for dedicated divers and enthusiasts. However, the 1050SW is much more capable in normal settings, looking and feeling like a standard point-and-shoot. For a camera that can be thrown about casually in a bag, in the water and at a party, the 1050SW is a good package.
Related posts:
Did you like this? Share it: