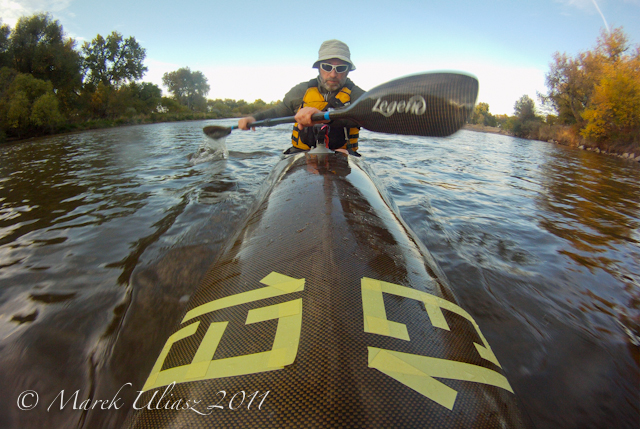 My local paddling lakes are frozen, but Horsetooth Reservoir is still open and the South Platter River is flowing. Unfortunately, I am not ready for my usual winter paddling yet. I need a few weeks to recover from my wrist surgery which I had just before Christmas.

Meantime, I am reposting a photo story from my paddling on the South Platte River on January 12, 2008. I paddled Thuderbolt-x kayak upstream from Kersey to the Plumb Ditch Dam and back down the river. All pictures were shot with Pentax Optio W30.

Rob Bean just paddled the same course on the South Platte with his Spencer X-treme canoe and a new wing paddle. He posted some pictures from this trip on Facebook.




14:00. I am launching my Thunderbolt kayak under the bridge at Kersey and starting to paddle upstream. Air temperature: a few degrees above freezing. Partially cloudy. River flow: 480 cfs. Snow on the ground and a little bit of ice along shores.

There were some spectacular icicles a year ago on this shore. I have a tendency to shoot pictures at the same spots.




Passing old cars above Kersey. It is the same "parking lot" where in October 2007 I had a close meeting and a photo session with a young eagle.

The river has developed some new channels during last year.




1 minute stop at the mouth of Lone Tree Creek. This time, the water level is too low to go any further. Perhaps, 50 geese were sitting there just a few seconds ago. No hunters.

You wouldn't notice this creek when paddling downstream. Paddling upstream reveals many river secrets.




Working hard upstream. Speed between 2 and 3 mph. 1 hour to confluence with the Cache la Poudre River. As expected there were some goose hunters there just packing their decoys.

Mitani-Tokuyasu State Wilderness Area next to the Poudre used to be my favorite spot for kayak launching. However, nowadays, this area is open only during hunting season and a parking space is limited to 4 cars. Also, all trees on this shore died for some reason during last couple of years.




I believe that the South Platte is getting somewhat faster with more shallow spots above the confluence with the Poudre.

Plumb Ditch Dam – the target of my upstream workout today. Two hours, almost 5 miles.

I heard hunters somewhere near the dam, so I turned around and landed on a gravel bar a little bit further downstream.

10 minute stop. A cup of hot tea. And, easy paddling down the river back to Kersey.




Sunset. Beautiful light, but is getting cold. Brrrr!

My speed down river varies between 6 and 8 mph. Of course, I am tired after upstream workout, however, I am hitting shallows more than when going slowly upstream.




Eagle tree. There were 6 bald eagles sitting on that tree. I saw many more eagles along the river.




16:50. A few minutes after sunset. I can hear the Kersey bridge.

There is always a heavy and fast traffic on this road even on weekends. So, be careful during your launching operations.

9.7 miles paddled during this trip according to my GPS.

Related posts:
South Platte River below Denver, Colorado – GPS/photo river guide
Paddling with Icicles – Thunderbolt-X on the South Platte River below Greeley
Old Truck, Young Eagle and the South Platte River Mysteries
Paddling Thunderbolt Kayak in Tight Places – Lone Tree Creek
January 2001 – My First Paddling on the South Platte River
Did you like this? Share it:
shopingserver
novinlink.in has expired
Because of this, the existing content of your website is not showing. If you are the registrant of this domain name and want to continue the use of your website, please contact shopingserver with an email to shopingserver@support.hostcontrol.com to renew the domain name.