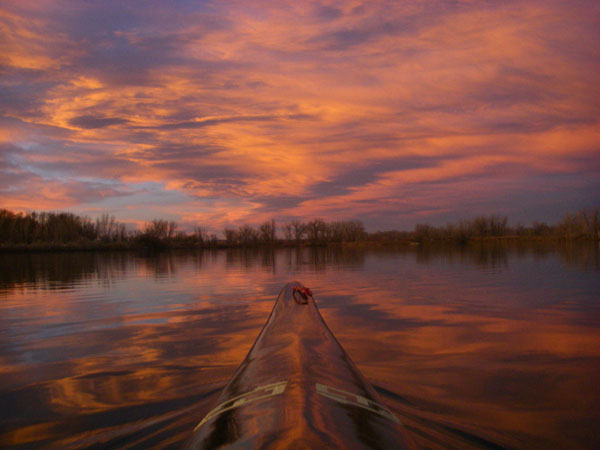 Here is another composition exercise from the old blog posted originally in June 2007. It is good to use a waterproof camera, especially, when you are paddling a tippy boat. And, always keep that camera on a leash. Usually, I have a camera tethered to my life jacket.
10 years ago I was paddling with Pentax Optio W10, and now with a similar Olympus STYLUS Tough TG-5. I switched mostly because the new camera offers RAW format for picture recording, so I have a full control in postprocessing. For a more casual shooter this may be not so important.

---
Of course, I paddled much longer on the Boyd Lake, but I stopped for 10 minutes in the southern end of the lake to enjoy a magic light just before sunset. I shot several pictures looking north trying different angles, different placement of a horizon, with and without a kayak bow in the frame and switching from horizontal to vertical format. All pictures were shot with Pentax Optio W10 with EV compensation set between -1 and and -1.7 and white balance left on "auto".
The above 6 pictures were selected from 20+ pictures I shot during that 10 minute photo session. The light was changing. You can see these young flooded cottonwood trees in the light at first, then they went into shadow. It looks quiet and calm, but passing power boats were sending wakes to my tippy photography platform – WSBS Thunderbolt-X kayak. It would be rather embarrassing to flip over in 1 foot deep water.
Then, it was time to look west and shoot the sun and clouds over mountains, but that is another photo story …
Which is your favorite picture?
Related posts and links:
Did you like this? Share it: