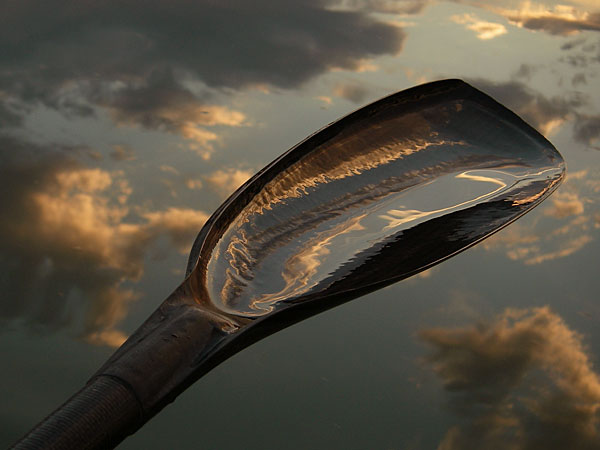 I would like to remind you this old post, How Did you Shoot It? with some updates and revisions. It was written two years ago as part of ProBlogger's group writing project – "How to …" I hope that these tips are still useful. They represent quite well my own approach to paddling photography.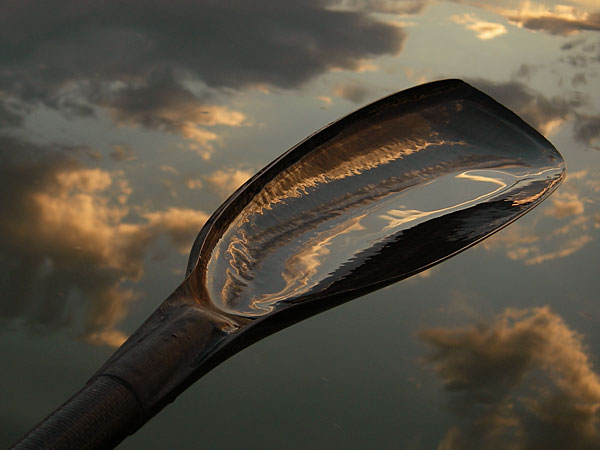 After posting the above picture, "Paddling in Clouds", I've got several questions: How did you do it? And, I had troubles to provide a reasonable answer since the shot was technically really trivial.
Finally, I figured out that it is more about seeing pictures than about shooting and wrote these more general comments.
Learn to see pictures. You do not need a camera to practice it. I am often "shooting" without camera, especially, when driving: that would be a good picture, this old barn would look great at sunrise, that dust devil at a horizon can be seen only through polarized glasses.
I believe that looking at photographs in magazines, books and calendars also help to develop your seeing capability. I am checking all new photography books arriving to my university library and browsing most of photography magazines in a local bookstore.
There are several good books on the art of seeing. Freeman Patterson comes to my mind first. Recently, I spent a lot of time with Photographer Eye by Michael Freeman.
A photographer is shooting pictures, not a camera, but you should have your camera ready. "Ready" means not only accessible. You should be familiar with your camera settings and operations. Learn what camera settings are working for your paddling photography. It may be difficult to figure out camera features when sitting in a tippy kayak and waves are splashing.
Compact waterproof digital cameras like Pentax Optio "W" or Olympus Stylus "SW" revolutionized my kayak photography. I can shoot pictures I was not able to execute before, e.g., with a partially submerged camera. I am ready to sacrifice some camera features or to some extend a picture quality for convenience and accessibility of these tiny camera for paddling environment.
The best light for outdoor photography is when the sun is low, i.e., around sunrise and sunset. I know that I can expect interesting light at the end of my afternoon paddling workout. If the sunset is not very exciting I can shoot water reflections or a tree silhouette.
Ironically, on paddling trips, we are often passing the best scenery in the middle of day, when the light is harsh and unpleasant. I am still shooting some snapshots for documentary purposes. My primary motivation to start paddling fast kayaks was to get in time to my shooting spots. All that racing craziness came later …
Do not be afraid to shoot without viewfinder. Well, you don't have one in Pentax Optio. And, the LCD display is often difficult to read in a bright sun. It shouldn't stop you from shooting. Use some creative angles as far as you can extend your arm. Remember, you can put this camera under water next to you kayak. The lack of a viewfinder is perhaps the main reason preventing some photographers from buying this camera, but I think that this a reasonable compromise in the camera of this size.
I didn't have a clear view of the camera display when shooting my "Paddling in Clouds" picture. I was just trying to keep a paddle diagonally in my frame.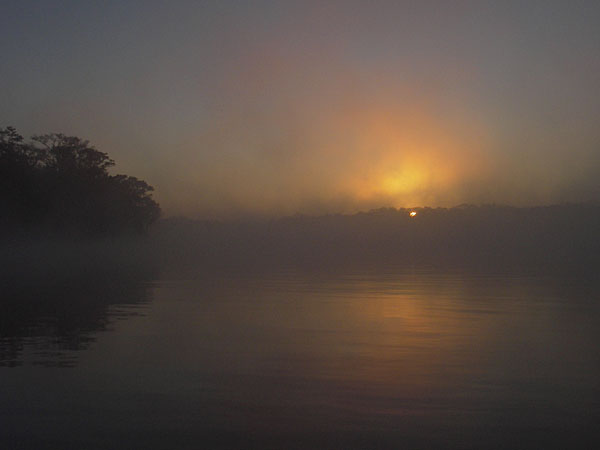 Shooting pictures with a digital camera is cheap. You do not need to worry about film cost. You can always erase the picture and shoot again unless you are after some action shots. So, do not be afraid to experiment and shoot even if you do not see the image in your LCD monitor. Shoot some extra frames. It is helpful to have an adequate memory card.
I shot about 30 frames trying to catch a sky reflection in water and in my paddle. However, I would show not more than 3 or 4 from those 30 frames.
The more you shoot the better you should get. I have shot similar pictures before including reflections and a paddle.
Review your pictures on the camera LCD if possible. Check the histogram. Analyze your shots after paddling on a computer screen. You have all information about camera setting included in each digital image file. Try to figure out what worked and what not. Learn from mistakes.
I don't consider myself a professional photographer. When paddling I am shooting what I like just for fun. Documenting my paddling trips and races is still fun. I feel free to experiment.
The great Alfred Stieglitz was an amateur photographer too. Anyway, the photography is not a profession…
Sometimes I sell a picture to a magazine or donate to a book cover. A year ago, I started to sell my pictures through microstock agencies. I am just taking more often my DSLR camera and a tripod for paddling.
Did you like this? Share it: