A bird's-eye view? Well, it's more like a low flying goose perspective.
I am testing GoPro HD Hero camera mounted on a telescoping mast a few feet above kayak deck. My camera mast remains the same as described a couple years ago in this blog. A reversed Gitzo monopod is mounted on My Sticky Pod platform with three suction cups. I am using a toy table tripod at the top end of monopod as a tripod mount for a camera. I used plastic ties and gaffer tape there, so no permanent modifications or damages to my carbon fiber monopod were made.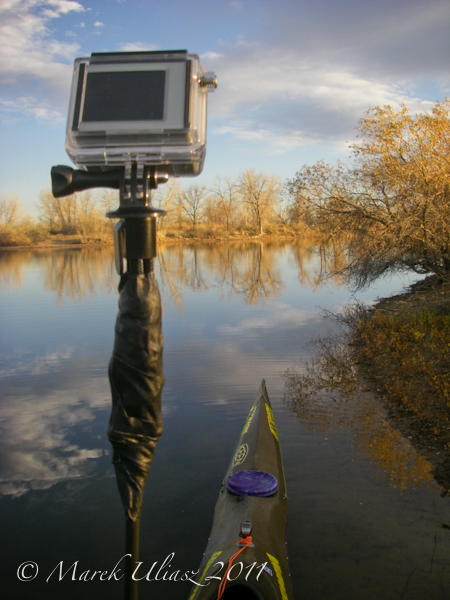 The pictures come from a recent paddling on Beaver Pond (Arapaho Bend Natural Area, Fort Collins) with JKK Supernova sea kayak. The camera mast was set up on a back deck of the kayak. I cannot mount the sticky pod platform on the steep front deck with a center ridge. I would have to figure out some more creative approach. I mounted the GoPro Hero with a single suction cup in my recent paddling with this kayak.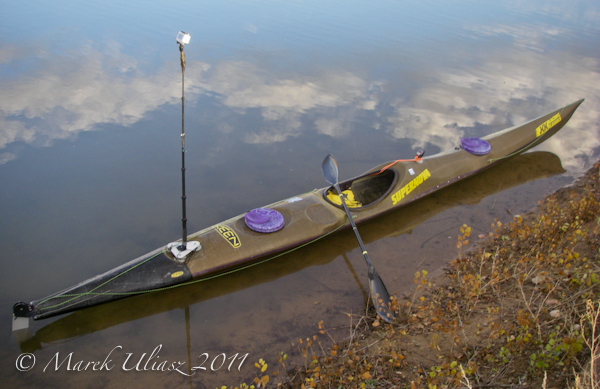 GoPro LCD Bacpac, a detachable LCD screen is really helpful in setting up the camera and reviewing shots.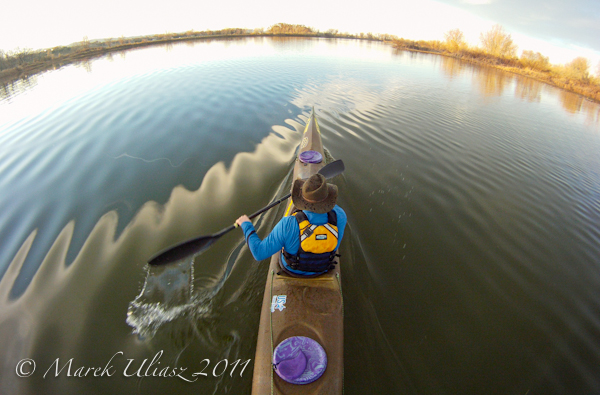 The camera was setup on a fully extended mast, i.e., about 60″ (152cm) above the deck. The stability of Supernova was not really affected. It was a different story with a more tippy Thunderbolt kayak. I wish I could place my DSLR camera, Canon 5D, that high in a kayak.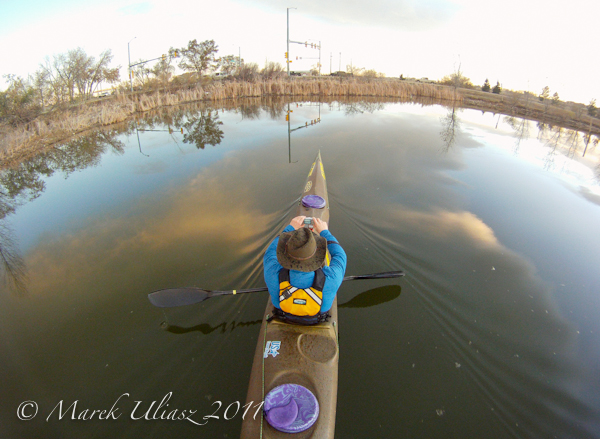 The camera was automatically shooting pictures every 30 seconds. It's possible to select some decent shots from 700 frames. Of course, had also my Pentax Optio W30 handy. I am getting ready to shoot video.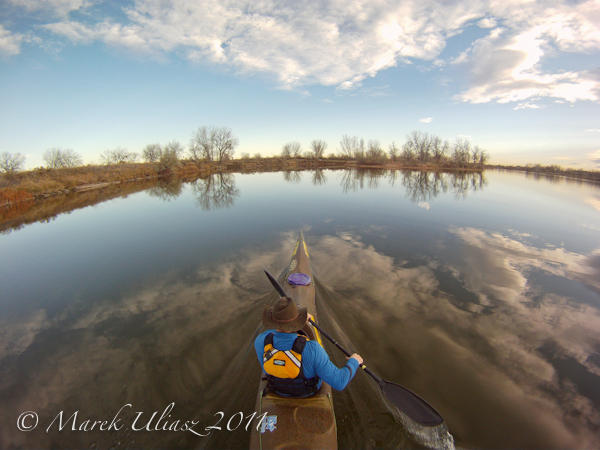 The same position of the mast, but the camera was lowered by 4″.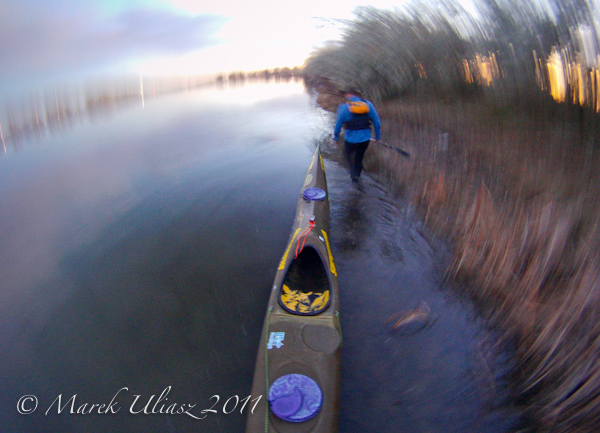 The last frame with a 0.5s long exposure: finishing my paddling after the sunset.
Related posts:
10 Minute Double Suction Cup Camera Mount for a Kayak Deck
Kayak Video Camera Mast – Sticky Pod Combined with Monopod
Paddling with Canon PowerShot G11 Camera on a Monopod Mast
A New Shooting Angle - Camera Video Mast on Thunderbolt Kayak
Sticky Pod Review - A Suction Cup Camera Mount for Kayak Photography
South Platte River with GoPro Hero HD Camera and Thunderbolt Kayak
Did you like this? Share it: