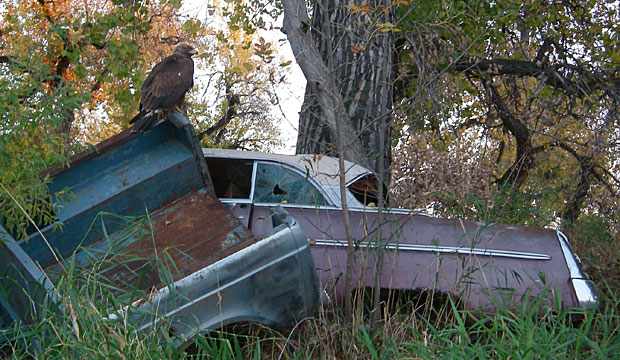 I was looking at paintings by Nancy Rynes, a Colorado artist. I like her texture series and, especially, the picture called "Confluence". Two red hawks sitting on a wall covered by graffiti. For me the confluence means here the coming together of wildlife and man made objects. It reminds me an old story from the South Platte River paddling – encounter of a young eagle sitting on old trashed car.
I really hated those cars from 1950s and 1960s when I started to paddle the South Platte River years ago. Then, having no choice, I accepted them and started to photograph them. At least they were put into the river for a reason – to protect river banks. It seems that wildlife is accepting them too.
Car Photography Session on the South Platte River
South Platte River – Another View or How to Photograph the River?
Here is my eagle story originally posted in 2007.
October 15 was my first day on the South Platte River in the fall/winter paddling season of 2007. I paddled upstream from Kersey in the Thunderbolt kayak. After exploring the Lone Tree Creek I paddled back down river to Kersey. It was just before sunset when I decided to shoot some pictures of old cars dumped there to protect river banks.
I squeezed my kayak into some standing backwater and started shooting. I didn't notice anything unusual, but I did sense somebody's presence …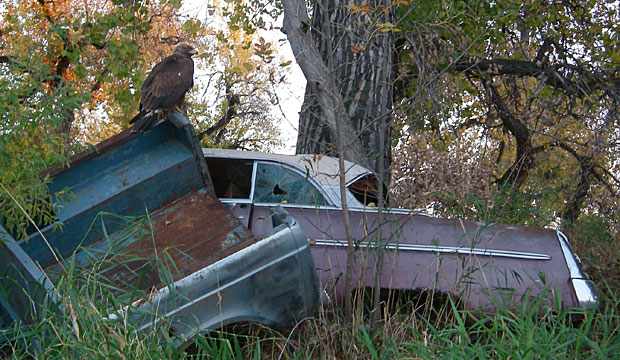 Not farther from me than a length of my kayak there was an old truck and a young eagle was sitting on the top of it. I kept shooting my pictures. However, looking at a beak and powerful talons, I didn't feel very comfortable balancing my tippy kayak in the front of that chick. Judging from the time stamps in my pictures I spent 12 minutes there. During that time the eaglet did not make the slightest movement.
I wished I had a better camera than my Pentax Optio W10. It was getting dark, so I backed up leaving the eagle on his truck.
I have seen adult bald eagles many times during my paddling on the South Platte, but it was the closest and most exciting encounter. As a first guess I assumed that I saw a juvenile bald eagle. After searching internet it seems that it is quite difficult to distinguish between immature bald and golden eagles. Some comments I got indicate that it was the golden eagle. So, who is that chick?
… from the Center for Biological Diversity:
Bald eagles commonly nested in and around Rocky Mountain National Park as late as the 1950s (117). By 1974, just one pair remained in the state (93). The population remained perilously low through the 1970s and 1980s, began growing in 1986 and reached a peak of approximately 65 pairs in 2006 (2, 69, 93, 96). One-third of Colorado's nesting bald eagles occur east of the Continental Divide in the South Platte River watershed (115). Other breeding concentrations include the Yampa River upstream of Craig, the White River in the vicinity of Meeker, the Colorado River upstream of Kremmling, and La Plata and Montezuma counties.
Bald Eagle – Nesting & Young from American Bald Eagle Information.
Do Wild Turkey Swim? A Photo Story of White Water Turkey Hen for Thanksgiving
Are My Paddlings Days Over?
Blue Heron – Bird Photography from a Racing Kayak with Pentax Optio W10 Camera?
From the Love Life of Canada Goose in My Paddling Pond: Rivals or Mates?
Did you like this? Share it: