The Horsetooth Reservoir west of Fort Collins is busy during summer, but a paddler can still find some relatively quiet time early morning.
Below are three pictures from my morning paddling with Sea Wind canoe (7/30/2011) shot with Pentax Optio W30 camera. I launched in the Sunrise Area and paddled across the lake to visit the Quarry and Orchard coves (~6 miles in 1.5 hour). The reservoir has a very high water level and all shores with tree and bushes in water look wonderful providing some unusual opportunities to explore by kayak or canoe.
I am using 5 access and lunching spots on the Horsetooth:
1. South Bay – boat ramp
2. Inlet Bay – boat ramp
3. Satanka Bay – boat ramp
4. Sunrise Area from the Centennial Road.
5. North Eltuck Cove from the Lory State Park (trail access up to 0.25 mile at a low water)
I am avoiding boat ramps during power boat season. Off season, I am often using one of the South Bay boat ramps. It's possible to park on a beach close to water there. Access point 1-4 require Larimer County Parks pass for your car. You also need a paddling pass. These are quite expensive. I paddle on the Horsetooth only when I buy annual passes. Well, sometimes, especially of season I visit the Horsetooth from the Lory State Park.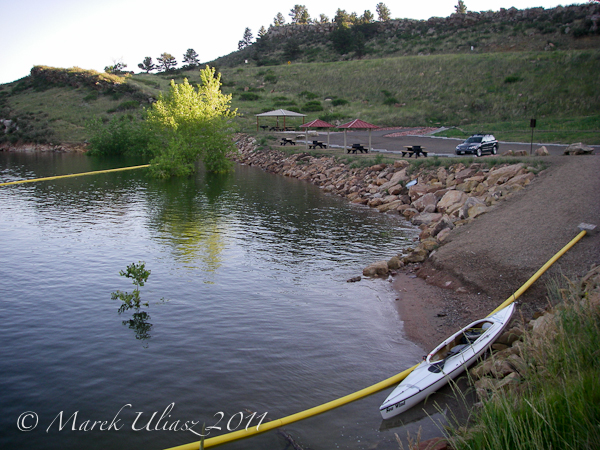 Sunrise Area with a swimming beach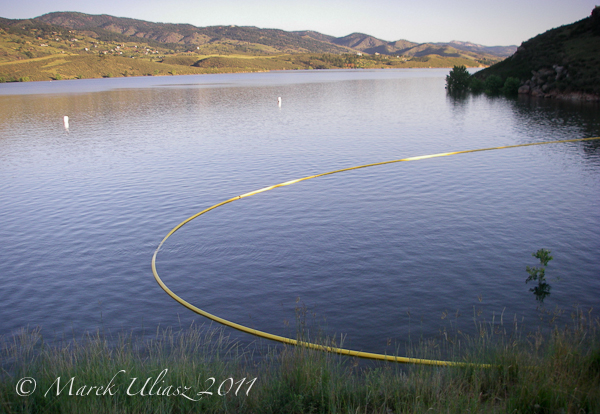 Sunrise Area with a swimming beach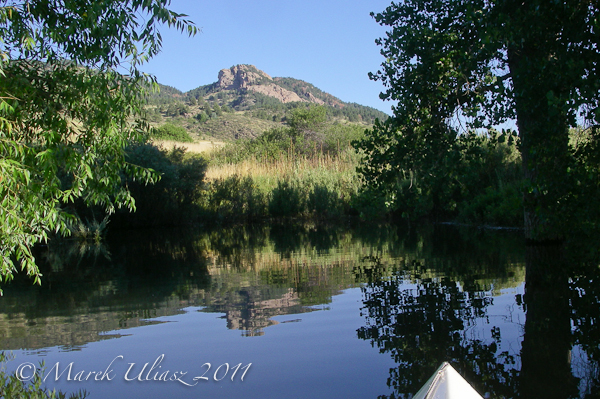 Arhurs Rock (Lory State Park) seen from the Quarry Cove
Related posts:
Summer Paddling near Fort Collins and Loveland
Fisheye Lens Perspective for Paddling?
Springtime Paddling on the Horsetooth Reservoir
Icy Horsetooth Reservoir – Opening Lake Paddling Season
Paddling Horsetooth Reservoir in Winter Scenery
Early Morning Shot of the Horsetooth Reservoir and Paddling Links
160 Lakes and Reservoirs of Colorado
Horsetooth Reservoir map
Did you like this? Share it: