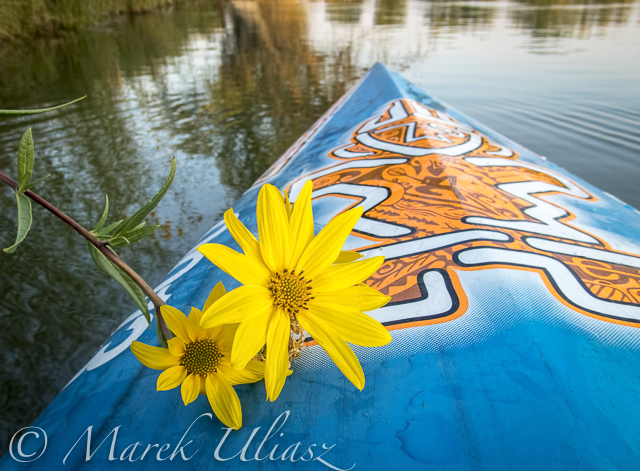 After paddling a heavy expedition paddleboard in Missouri River 340 race I returned back to my racing board – 14×30 All Star by Starboard. It is definitely more fun for short 4-6 mile workouts. Of course, I wonder how my race would go in this racing board. I will be posting the race analysis in the
Fitness Paddling
blog.
I am paddling on my local waters in Fort Collins: Horsetooth Reservoir (water level is dropping down) and Beaver Pond in Arapaho Bend Natural Area.
I didn't do any serious paddling photography lately, but I always carry Olympus Stylus TG-5 waterproof camera with me. Below is another series of pictures – just trying different camera angles as a break from a paddling workout. You are welcome to check the previous posts for pictures shot around the MR340 race.
All pictures were shot in aperture mode with some exposure correction (typically somewhat underexposed). I am recording images in RAW format, and then processing them in Adobe Lightroom, and sometimes, in Photoshop if I need to remove something or apply more advanced corrections.
I am adding these pictures to my stock photography portfolio.
What camera are you using for paddling? A regular point and shoot camera, a waterproof one, GoPro Hero, a smartphone?
Did you like this? Share it: