Photography has been a part of my racing since the 2005 Texas Water Safari when I bought the first compact waterproof camera available – Pentax Optio WP. Missouri River 340 race is easier for photography since it is open water without any portages. Nevertheless, photographing before, during and after a long endurance race is always a challenge.
I paddled my Sea Wind canoe during this year MR340 race and used two cameras: my main DSLR – Canon 5D with 35-70mm zoom lens, and waterproof Pentax Optio W30 mounted on a bow.
Before the race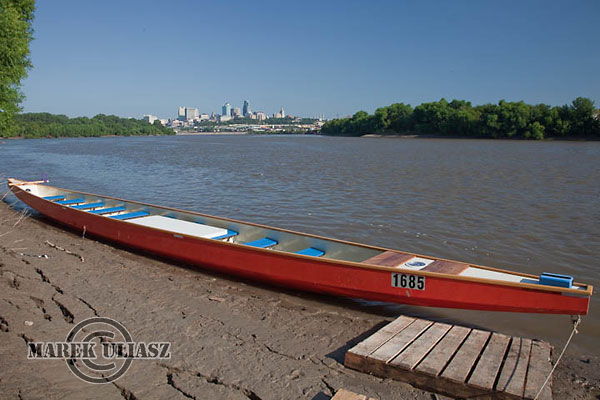 One of my pictures shot a day before the race. A dragon boat at the Kaw Point "beach". Camera: Canon 5D. I visited Kaw Point with a camera twice during that day.
Kaw Point – race start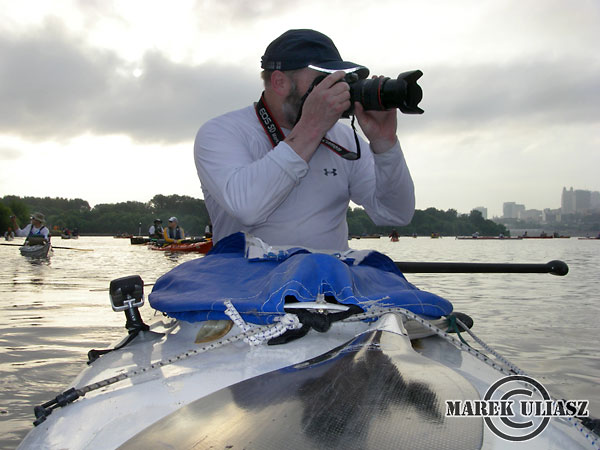 Photographing the race start. Kaw River with Kansas City skyline far away at a background. It was pretty dark, cloudy, not so good light for photography. A view from my bow camera (flash fired).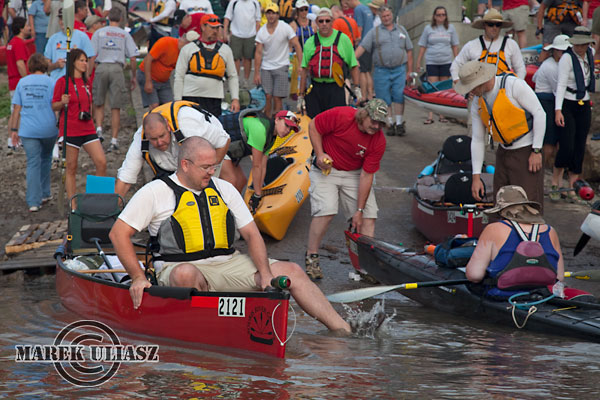 A busy boat ramp about half hour before the start. Tighter shots turned to be much better that a general scenery pictures. Camera: Canon 5D.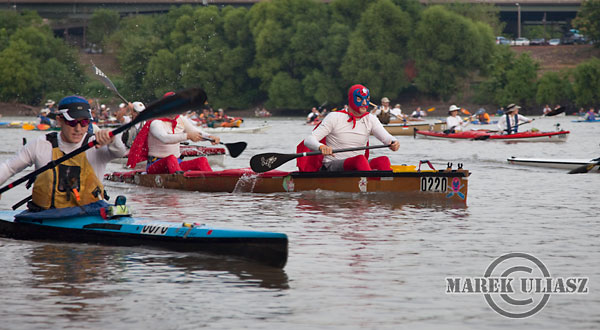 One of my pictures from the race start. The right bank of the Kaw River was really muddy, so I was shooting from my boat. Camera: Canon 5D.
The Canon camera stayed in a waterproof Pelican case for the rest of race. I really regret that I didn't take it out at a beautiful foggy morning below Hermann. It was already third day of the race. I was pretty tired and a tennis elbow problem was affecting a grip in my right hand. ZRE paddle is much lighter than a DSLR camera.
Award ceremony at St Charles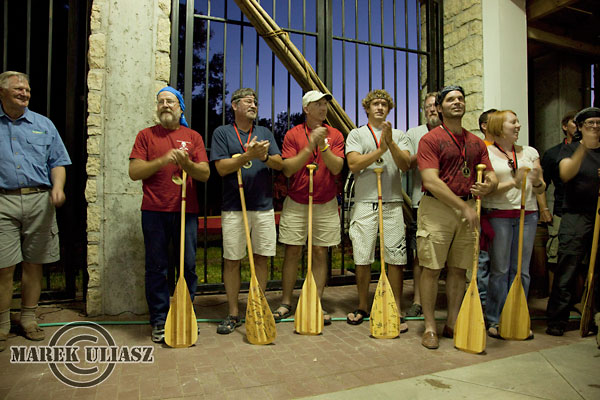 A part of the dragon boat crew during an ward ceremony. I was shooting with Canon 5D hand held with available light at high ISO (2000). Just a few shots were successful. Perhaps, I should think about some flash setup for the next year.
Bow camera setup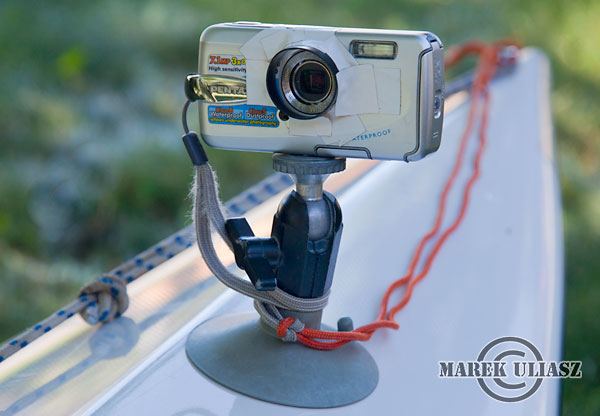 A waterproof Pentax Optio W30 camera was mounted on a bow of my Sea Wind canoe with Sticky Pod suction cup and a mini ball head. Normally, I am using a smaller and light knuckle, but during the race it was used to mount my Garmin Etrex GPS. A tether is always mandatory with anything mounted on a deck with suction cups. Sticky Pod cups are holding pretty well on a clean deck, especially, when rinsed with water before mounting. This time I rinsed my deck with a river water which leaves a lot of silt residue when drying. As a result my camera felt off the deck once and I got one underwater shot. I didn't have that problem in previous races when I used my drinking water to clean the deck.
I have several blog posts on Sticky Pod suction cups including a review and different applications.
I am using an improvised lens hood on my Pentax to protect the lens against direct sun light and splashes.
The camera was set in a lapse time (interval) mode to shoot a picture every 4 minutes (medium quality) during ~60 hour race. Unfortunately, I forgot to turn camera flash and a battery went dead after 500+ covering about 36 hours of the race. Without a flash I would have a full coverage.
Below the are examples of pictures shot by my bow camera under different light conditions. I am hoping to prepare an animation using all frames.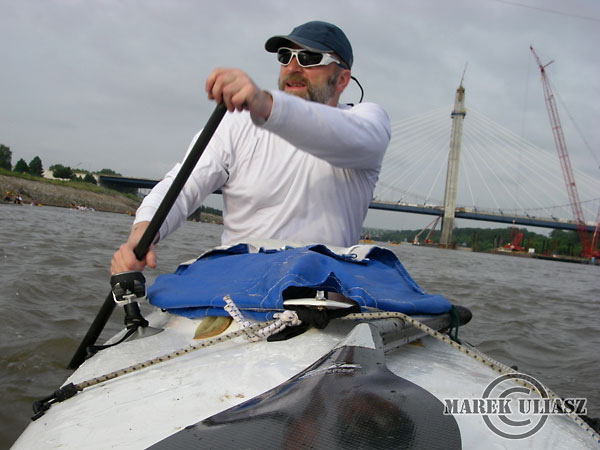 Paddling under bridges of Kansas City. Pictures from my bow camera turned to be pretty good in these cloudy conditions with just a little bit of sun.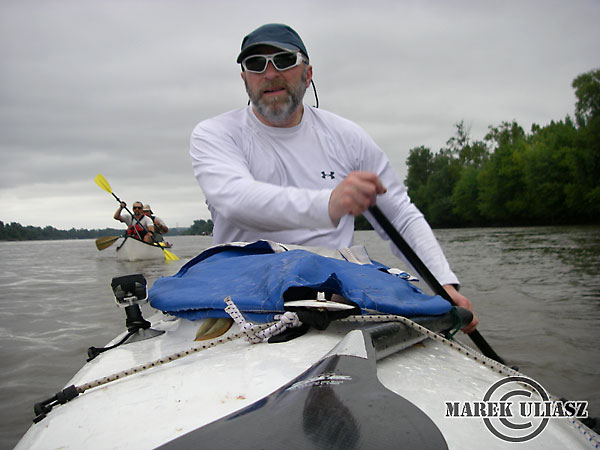 A few miles further downriver.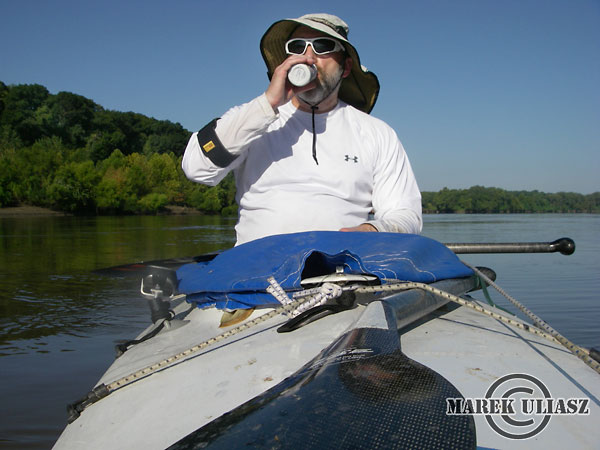 A bottle of Ensure Plus is going in. A sunny afternoon.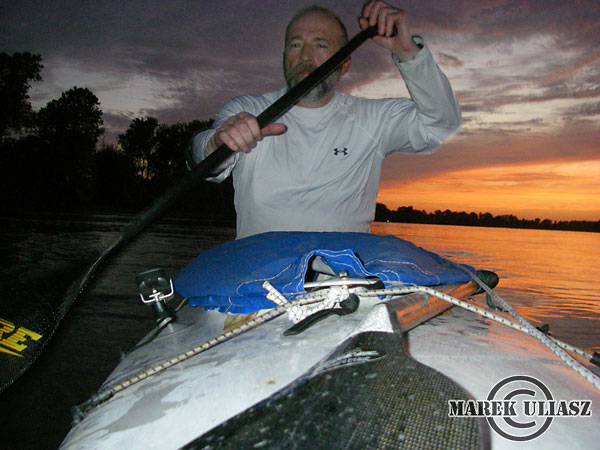 Night time pictures with a flash from my bow camera were not very good …

And, being blinded by flash at night every four minutes was not a fun. I couldn't sleep!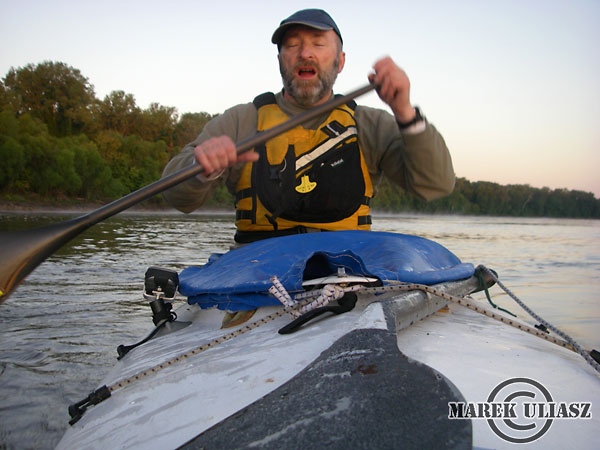 Sleepy, tired or bored? A very early morning, second day of the race. Still in my night time clothes and a full life vest instead of an inflatable belt jacket which I used during daytime. Nights were pretty chilly.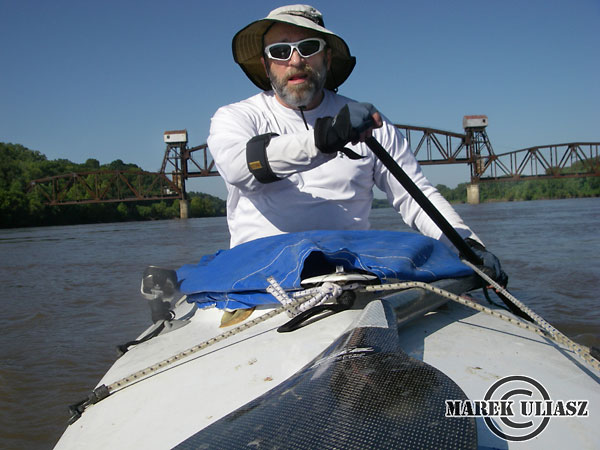 Passing under the old railroad bridge at Boonville.
Other pictures
Of course, I shot also a lot of pictures not related directly to the race, e.g., during my Amtrak shuttle back to Kansas City, or during short trip to St Louis and the old Chain of Rocks bridge over the Mississippi River.
Next year?
Everything depends on what boat I would paddle.
I will consider a bow camera in a lapse time mode again, but without a flash. However, I would also like to have another compact camera ready to use. If I take Sea Wind canoe again I will try to photograph the race start with my DSLR camera. Probably, I will pack it in a soft waterproof bag instead of heavy Pelican case.
Pictures for prints or downloading
I am making some MR340 pictures available for ordering as prints or digital downloading in my stock photography website. More pictures are coming there.
Related posts:
Paddling and Hydrating during 2010 MR340 Race
120 Pictures from the Missouri River 340 Race
3 Years of the Missouri River 340 Race series:
Bryan Hopkins, West Hansen, Christina Glauner, Chuck and Di McHenry, Katie Pfefferkorn
My Experience in Three Famous Ultra Marathon Paddling Races
Olympus Tough TG-5 Waterproof Paddling Camera – First Impressions from 2017 MR340 Race
Did you like this? Share it: