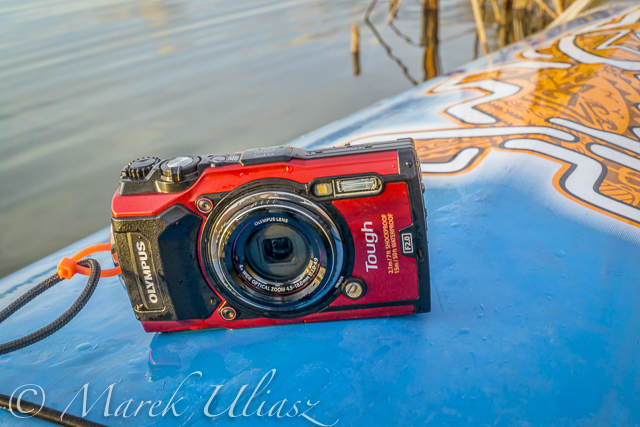 A few weeks ago I upgraded my paddling camera to waterproof and rugged Olympus Stylus TG-5 . It's the follow-up to the Olympus STYLUS Tough TG-4 and features a new sensor and processor (but reduced resolution), advanced tracking capabilities, 4K video capture, Wi-Fi.
I've been using waterproof cameras from Pentax Optio series for years. The last one was Pentax Optio WG-2. It was followed by Ricoh WG-30w. I understand that these cameras are now discontinued, but you can still find them on amazon.
My main reason to buy Olympus TG-5 camera was its ability to record images in RAW format. I like to have a full control over processing my pictures in Lightroom and/or Photoshop.
I am not often using my iPhone when paddling. Typically, the iPhone is hidden in a dry bag or I am saving its battery for communication in longer trips like MR 340 race. BTW, you can get images in RAW format from your iPhone when using the mobile Lightroom app.
You can find many reviews of the TG-5 camera online, e.g.,
New Olympus TG-5 improves 'toughness', brings new sensor and tracking functionality
There isn't a better rugged waterproof compact around than the Olympus TOUGH TG-5. Like all great cameras it gets the basics right – a bright, good quality 25-100mm f2 – 4.9 lens paired with a quality 12 Megapixel sensor and high performance TruePic VIII processor. It builds on that with a great set of features and shooting modes, including Pro capture continuous shooting, 4K video, RAW support, and superb macro modes. Finally, it provides the control you need to make the most of those features, whatever the environment. The only downside is the poor performance of the movie continuous AF.
I've got the camera just a few days before the 12th Missouri River 340 Race (nonstop paddling race from Kansas City to St Charles). I had only time to figure out how to use aperture mode with exposure compensation and ISO adjustment. Here are some pictures shot before, during, and after the race. The pictures on the Missouri River were shot with a harsh afternoon light while other with a much nicer morning light.
I believe that image quality is pretty decent, good enough to include images in my stock photography portfolio, and certainly for web publishing.
Now the big race is over. I will have some time for a more relaxed paddling and photography. I am going to compare Olympus TG-5 to my old Pentax Optio, and perhaps, to GoPro HERO camera.
I wonder if anybody is still using this type of waterproof camera for paddling and other outdoor activities in the age of a smartphone. So, what camera are you using? Please share your experience.
Did you like this? Share it: