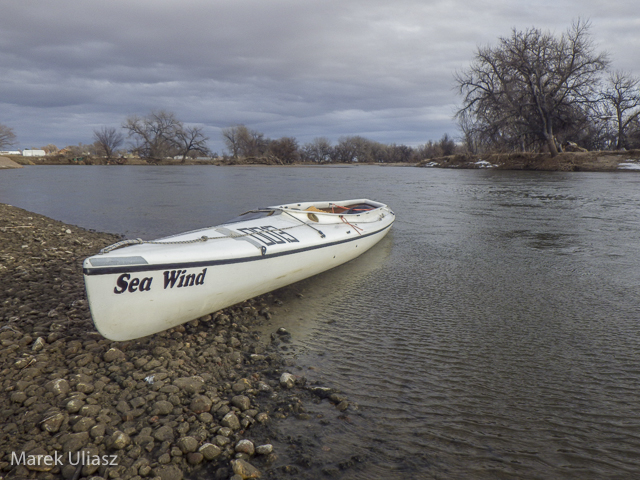 January 21, 2014. Finally, I started my paddling season for the year 2014. I took the Sea Wind canoe to Kersey and paddled upstream to the confluence with the Poudre River and back. It was my first paddling on the South Platte after last year flooding. There are a lot of signs of that flooding on shores, but the river remains the same – wide open without any new obstacles.
The river flow was ~950cfs at Kersey. There is a new station near Greeley – PLAGRECO. I don't know its exact location yet, but it may be pretty useful for planning paddling trips since it shows the river flow not affected by subtraction and addition of water between Greeley and Kersey (2 diversion dams and the Poudre River).
I will be doing more training runs at different locations on the South Platte during winter time if anybody would like to join me. Most of the time I will paddle the Sea Wind canoe which is my first choice boat for this year Missouri River 340 race. I am hoping also for some downriver SUP runs. You can expect updates to my South Platte River guide.
Related posts:
South Platte River below Denver – GPS/photo river guide
12th Annual South Platte River All Club Paddle
Opening 2013 Paddling Season with Badfish SUP on the South Platte River
Did you like this? Share it: