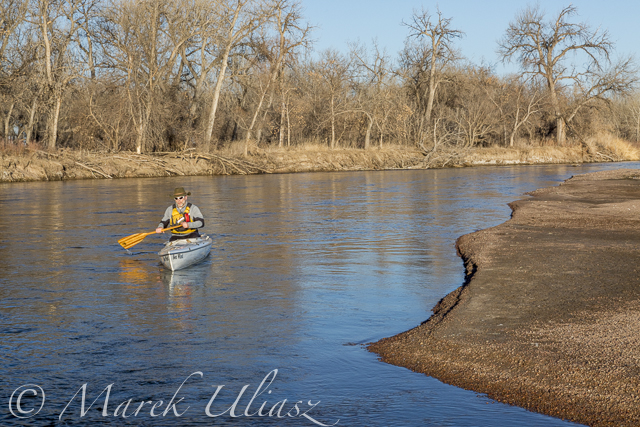 March 6, 2015. Finally, I started my 2015 paddling season on the South Platte River. I took Sea Wind canoe to Masters (about 28 miles east of Greeley on highway 34) and paddled 2.5 miles upstream and back: easy workout, a short photo session, watching bald eagles and deer.
Masters offers a typical bridge access to the river with a barbed wire fence and wide shoulder parking. It is similar to Kuner access, perhaps a little easier and shorter. There is a diversion dam just above the bridge. It was open and easy to paddle in both directions. Several diversion dams below Kuner can be open and runnable, at least in winter. River flow was much lower (~650cfs) than at Kersey (~1000cfs), but I still had plenty of water to paddle.
Riverside Park at Evans.The main park access from 37th Street remains closed, but the park was partially open in September 2014. Here is information from City of Evans webpage:
On September 13, 2013, Colorado experienced widespread flood destruction from what the media referred to as "biblical" rains. Riverside Park was completely destroyed in that flood.
One year after the flood, on September 13, 2014, the City was able to proudly open a section of the park accessible from 42nd Street. The 7-acre Riverside Lake was opened for fishing and a portion of the trail around the lake was opened as well.
It would be worth to check if there is an easy access to the river from the reopened part of the park. Last year, I was looking for an alternative river access at Evans. There is a possibility to launch boats under the highway 85 bridge (the end of the frontage road on left shore where a bike trail starts).
Did you like this? Share it: