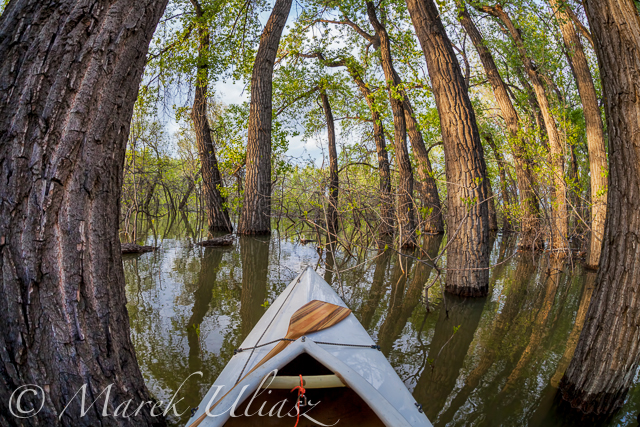 I love to paddle the Lonetree Reservoir southwest of Loveland during springtime. You can always enjoy a nice view of Rocky Mountains Front Range. It is a great spot to shoot sunsets over mountains. When water is high I like to paddle through submerged trees and bushes. Please keep in mind that the heron rookery is a restricted area during the nesting season, but there are other places where you can paddle into a forest.
Picture featuring Sea Wind canoe in cottonwood forest was shot on May 15m 2014 with Canon 5D Mark II camera and Sigma 15 mm Fisheye lens. I confess … I spent a longer while gliding in a canoe between cottonwood tress and playing with that lens. I was shooting in both landscape and portrait formats.
Which version do you prefer? Horizontal or vertical?
Related posts:
– Canoe paddling in fisheye perspective – royalty free pictures.
– Paddling through Forest and Irrigation Ditches
– Fisheye Lens Perspective for Paddling?
– Horizontal or/and Vertical Format in Kayak Photography
Did you like this? Share it:
shopingserver
novinlink.in has expired
Because of this, the existing content of your website is not showing. If you are the registrant of this domain name and want to continue the use of your website, please contact shopingserver with an email to shopingserver@support.hostcontrol.com to renew the domain name.