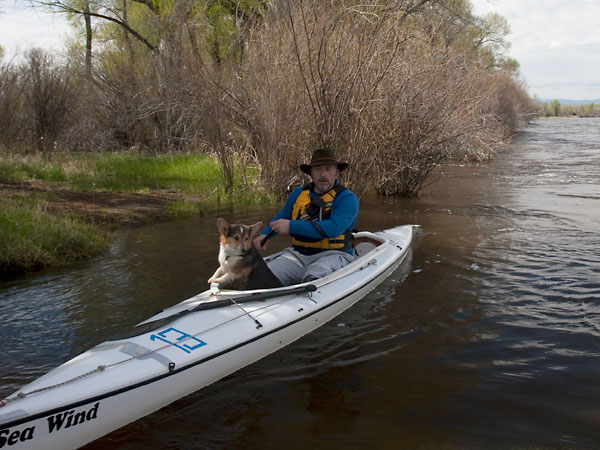 Paddling with Pixel, the "water" Corgi in Sea Wind canoe on the North Platte River below Saratoga, Wyoming (near Pick Bridge). May 30, 2009.
That was the weekend of the last Wyoming Outback Challenge, 44 mile paddling race from Saratoga to Fort Steele. The race was organized in 2007, 2008 and 2009, see the summary of results
The North Platte in Wyoming is one of my favorite rivers. I paddled the river from Benet Peak campground to Seminoe Reservoir and shorter section below Glendo and Guernsey Reservoirs.
Pixel is often my paddling companion when I have a chance to paddle Sea Wind in a more recreational mode.
Related posts:
Paddling with Pixel, the Water Corgi
Sun, Snow and Wind on the North Platte River in Wyoming
Bennett Peak to Pick Bridge on the North Platte River, Wyoming
Do You Paddle with Your Dog? K-9 Kayaking
44 Miles of the North Platte River in 2 Minutes
North Platte River Kayak Racing – 2009 Wyoming Outback Challenge
Did you like this? Share it:
shopingserver
novinlink.in has expired
Because of this, the existing content of your website is not showing. If you are the registrant of this domain name and want to continue the use of your website, please contact shopingserver with an email to shopingserver@support.hostcontrol.com to renew the domain name.