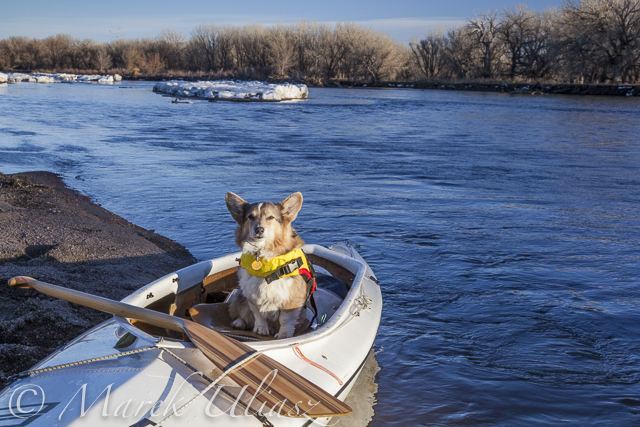 I paddled the South Platte River twice this year in the upstream/downstream mode covering just a couple of miles above Kersey on January 21 and above Kuner on February 16.
The river is the same as before 2013 flooding, wide open, without any unusual obstacles. More changes you can see on shores including river access.
Evans. Riverside Park, a popular launching place, is closed. I am not sure if it is related to the flooding or just temporary closure due to winter/muddy conditions. No information on their website.
37th street bridge in Evans (left shore, upstream) may be an alternative launching spot with off road parking. It is just below the Riverside Park. Right now, the place is very muddy with a lot of fresh dirt after the bridge repairs. SWA below the bridge is closed.
Kersey access remains the same (not too easy for larger groups).
Kuner access remains the same.
The river flow is good, above 1000cfs, all the way to Fort Morgan. Most dams below Kuner were upgraded with gates during recent years. They may be paddleable if not diverting water. The dam below Kuner (Empire Reservoir inlet) was closed yesterday.
Only a little bit of snow was left on sandbars. Turkey were very talkative and loud. I saw a whitetail deer crossing the river – it had to swim across the main channel.
Related posts:
South Platte River below Denver – GPS/photo river guide
12th Annual South Platte River All Club Paddle
Opening 2014 Paddling Season on the South Platte River
Updates – March 2, 2014:
in Evans remains closed until further notice due to damage from 2013 floods.
I did some driving and scouting along the S Platte River today:
1. Brighton. Veterans Park, Bike trail is closed, but parking is open and it's possible to access the river as usual if you ignore "trail closed" sign. There is a disturbing warning sign about bacteria pollution in the water.
2. Ft Lupton. Pearson Park. Open. River Access as usual.
3. Hwy 60 bridge near Milliken. The same uncomfortable access as before flooding.
4. Evans. I didn't check Riverside Park again which was closed a week ago.
There is a reasonable access under the hwy 85 bridge from a quiet frontage road (right side of hwy 85 when driving towards Denver, you need to turn at last traffic lights before the river, 42nd st).
That road (W Service rd on maps) goes to the dead end at the bridge and continues as a bike trail under the bridge to Riverside Park. Less than 200 yards to water. Some parking space there and along the road. Enough space for boat preparation, but only a narrow sandy spot under the bridge for launching – one boat at a time. Otherwise, the shore is pretty high. The place doesn't look so bad considering "under the bridge" scenery.
If you have a boat on a cart you can walk further downriver along the bike trail to look for another launching place (all the way to Riverside Park), but you will see probably that familiar steep shore with concrete blocks like in the Park.
Did you like this? Share it: