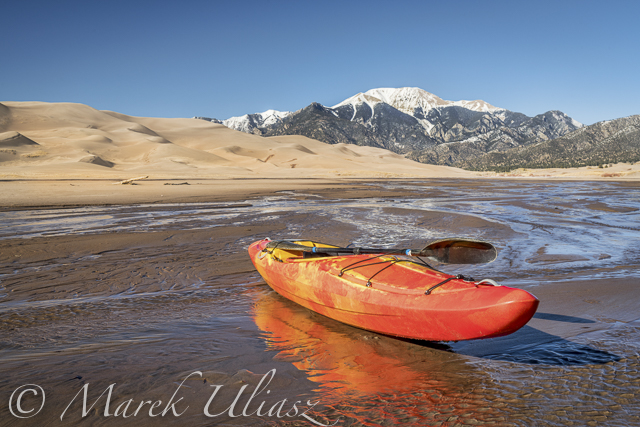 I paddled all winter in Fort Collins and northern Colorado: Horsetooth Reservoir, South Platte River, St Vrain Creek. One day in late February I decided to check some paddling waters in southern Colorado for a change.
Paint Mine Interpretive Park
First stop: Paint Mine. Fantastic forms of clay and sandstone erosion, canyons, hoodoos and spires. The colorful clays were used by Native Americans. Water is here sometimes, but not today except a little bit of snow. This is a great place to visit and photograph. Of course, these badlands are not for paddling. Let's drive further south.
Great Sand Dunes National Park
It looks pretty dry here, but actually sand dunes in
Great Sand Dunes National Park
are wet. And, some of them are covered by frost on winter mornings. Yes, it can be really cold here at 7500 foot elevation.
Water must be somewhere here. Still searching …
I used to a have a photographic obsession with sand dunes 15-20 years ago. I visited and photographed numerous sandy places in the southwest from Great Sand Dunes to Death Valley. I still have some prints of sand dunes on my walls and a collection of sand samples. That was a "Velvia" period of my photography. At that time I was shooting slides, mostly Velvia film.
Medano Creek
Here it is! Unfortunately frozen. Perhaps, a little bit downstream of Medano Creek it could be better. And, maybe later in a day when it is warmer.
Meanwhile, I went for a long walk upstream of the Medano Creek.
There is some water flowing in the afternoon. Enough to drag a kayak and shoot some pictures, but not enough for floating. It looks like
paddling on wet sand
works better on the South Platte River.
Jackson Kayak Karma RG
On my way to sand dunes I stopped at Salida to pick up this kayak from .
Karma RG is a crossover kayak designed for ocean rock gardens and river expeditions. It has a room to store my photography and camping gear. I did some tests on calm water: a cruising speed is about 4-4.5mph, so pretty fast for a whitewater boat, at least in comparison to my old Seda Cyclon. It is tracking pretty good with skeg down if wind is not too strong. Unfortunately, it's quite heavy at 58lb. It's a lot in comparison to my racing kayaks.
The Medano Creek is just disappearing in sand. This is a dead end. Let's see some other places tomorrow.
Did you like this? Share it: