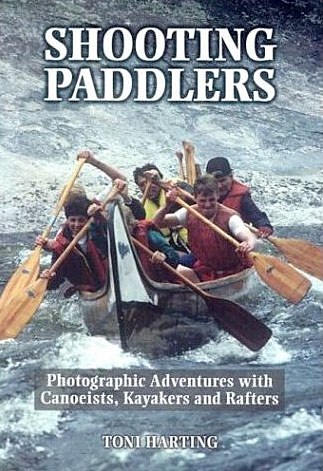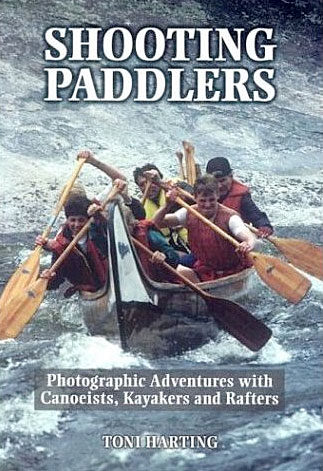 Shooting Paddlers: Photographic Adventures with Canoeists, Kayakers and Rafters
, book by Toni Harting, a Canadian outdoor photographer, writer and canoeist. 212 pages. Cardinal Publisher's Group, 2004.
Toni Harting migrated to Canada from the Netherlands in 1970 and has lived in Toronto with his wife and canoeing partner, Ria, ever since. He holds two Master of Applied Science degrees in aerospace engineering, but left his consulting engineering profession in 1974 to build a new career as full time freelance photographer specializing in canoe topics, particularly wilderness canoeing.
You can learn a lot from his book. It is designed to help all paddlers strengthen their ability to see, recognize and record meaningful images. At the same time the book is simply fun to read or browse through it.
There are more than two hundred black and white and color pictures. Some of them are in two versions, e.g. an original picture and the same picture after cropping. Each picture is accompanied by its story and discussion with tips on composition, technique and logistics. Of course, there is also a chapter on equipment but you will not find information on a highly specialized gear, rather tips on using regular 35 mm point-and-shoot and SRL cameras.
There are many amazing shots. You can see a lot of action pictures from canoe and kayak racing and rafting, contemplative scenic or close up shots, pictures from paddler's life on camping or portage trail. You will not find many pictures from sea kayaking, but a great representation of a canoe including sprint and marathon canoes, voyageur canoes and dragon boats.
My picture of a paddle in my another weblog entry was inspired by one of Toni Harting photos. I just need to work more on that shot… And, I got some more photo ideas from his book.
I always admire people who have sacrificed their "other" career to be a full time photographer. I know enough about photography to recognize how hard photographer job is and that it is not only about shooting pictures. Writing skills help for sure.
Related posts and links: