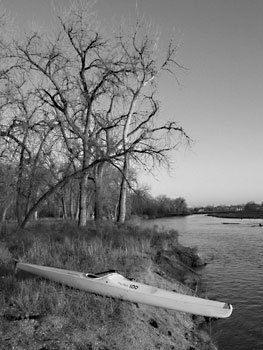 A nice sunny weather and a good river flow. This time I launched my Sisson Nucleus in the afternoon at Evans River Park and paddled upstream to take a closer look at the portage over Latham Ditch Dam near La Salle. After a mile of upstream paddling I stopped under railroad bridge to take some documentary photos of an old palisade blocking passage and gathering logs and other junk. These pictures will go to my S. Platte River paddler guide. So far, I have covered about 50 continuous miles of the river from St. Vrain Creek to Masters.
The river below the dam had very little flow and was very shallow. Most of the water went right through a channel with steep banks closed by three gates. I paddled the shallow river to about 200 yards below the dam where I got finally stacked in sand. At that water level the portage was not difficult despite of some huge logs blocking access to the river. However, at higher water with flow over the dam, the landing there would be much more difficult.
I paddled about 3 miles upstream and turned around at sunset after shooting a couple of pictures. In my return way I choose different route around the dam. I paddled into channel and took off on a very steep shore between gates. Very uncomfortable at least in my tippy kayak, requiring some strength from a solo paddler, but obviously possible. It sounds like a good safari training. I did the same portage with my Spencer X-treme canoe during my birthday run down St Vrain Creek and South Platte river to Evans in April.
I finished at Evans shortly after sunset with a thin layer of ice forming on a deck of my kayak. It was nice to be able to change into dry cloths and have a cup of hot tea before driving home.
GPS trip odometer: 5.92 miles, moving time 1:49 h stopped time: 0:39 h, moving average 3.3 mph, max speed 8.5 mph. Average HRM: 131. River flow: S. Platte @ Kersey: ~850cfs. Air temperature 42-35F.
Did you like this? Share it: