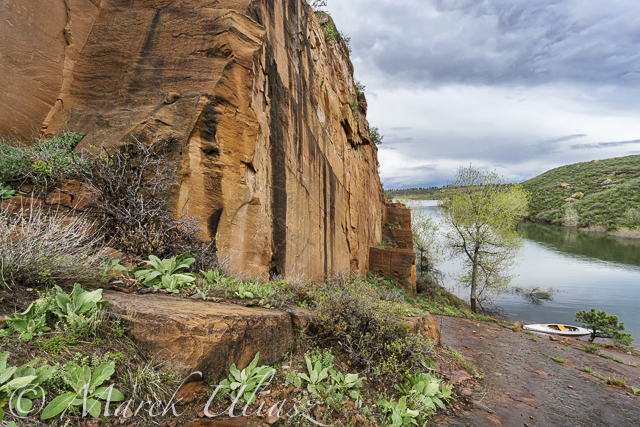 I started my 2015 paddling season on Horsetooth Reservoir in early February, but my favorite time is springtime: a lot of fresh green, wild plums and other bushes in bloom, high water lever with submerged cottonwood trees and little power boat traffic. The reservoir is more than 98% full at this time (see
reservoir data
.
Horsetooth Reservoir is 6 miles long, but I wonder how long would be a lap around the entire lake following closely the shore. 25+ miles? There is only one way to check it out. So far this year, I haven't paddled more than 10 miles, always in Sea Wind canoe.
There are several access spots to launch your kayak, canoe or SUP:
1. South Bay – boat ramp
2. Inlet Bay – boat ramp
3. Satanka Bay – boat ramp
4. Sunrise Area from the Centennial Road (closed during winter).
5. North Eltuck Cove from the Lory State Park (trail access up to 0.25 mile at a low water)
I am avoiding boat ramps during power boat season. Off season, I am often using one of the South Bay boat ramps. It's possible to park on a beach close to water there. Right now, boat ramps are very short and a regular parking is really close to water. I use Sunrise Area next to swimming "beach" mostly during summer. The shore there is quite rocky and not protected from waves and boat wakes. Access point 1-4 require Larimer County Parks pass and 5 – Colorado State Park pass for your car. I used to carry my light Thunderbolt kayak from the Lory State park or tow Sea Wind on snow.
Did you like this? Share it: