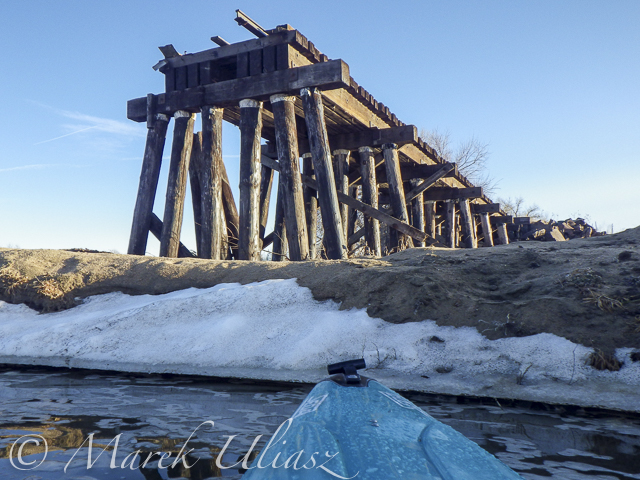 February 11, 2016. I did some scouting and a little bit of paddling on the lover
St Vrain Creek
.
First, I checked some potential launching spots, i.e., bridges, below I-25 highway. Then, I ended up paddling upstream from the county road 19.5 bridge (Wildcat). I use that place near St Vrain Power Station quite often, mostly as a starting point for downriver trips on the South Platte River. It was also a starting point of the 31 miles South Platte River Marathon which I tried to organize a few year ago. You can paddle 1 miles down the St Vrain to the confluence with a flow even below 100 cfs. The 7.6 miles of the river from the road 19.5 along the Wildcat Mound to highway 60 near Milliken is really scenic. I call it Wildcat Mound run in my paddling.
Pictures below show the river at 150cfs. I paddled about 2 miles upstream to the diversion dam where I had a photo session. Then, after sunset, I returned back as quickly as possible since it was getting really cold. Pictures were shot with Pentax Optio WG2 camera and Sony A7R 2 on a tripod (2 last pictures).
I paddled my old Seda Cyclone kayak in this trip. I would prefer to use another boat for an upstream/downstream workout, i.e., JKK Supernova kayak, but that little blue kayak looks better in pictures. Years ago, I did several upstream trips on the St Vrain with Sisson Nucleus kayak.
Did you like this? Share it: