I discussed applications of suction cups from Sticky Pod in numerous posts in this blog – mounting different cameras or GPS units on a kayak deck. A single suction cup works usually pretty good for small waterproof cameras like GoPro Hero or Pentax Optio. However, things are getting a little bit awkward if your kayak has a steep deck with a ridge in the middle. It is the case of JKK Supernova kayak where it is not so easy to level and center a camera on a front deck. I also wanted to set up the camera a little bit above the deck.
The problem was solved with the two suction cup mount. I used the following basic ingredients:
– two suction cups (you can order then directly from Sticky Pod or from Amazon.com, for about $3 each)
– aluminum flat bar (1/8″ thick, 1″ wide) from your local hard store, the length depends on your design
– three 3/8″ bolts, two 3/4″ long and one 1/2″ (or you may need some spacers) and one nut
– a piece of some cord for a tether
It took me about 10 minutes to cut the aluminum bar, drill 3 holes, smooth sharp edges and bend it to a shape.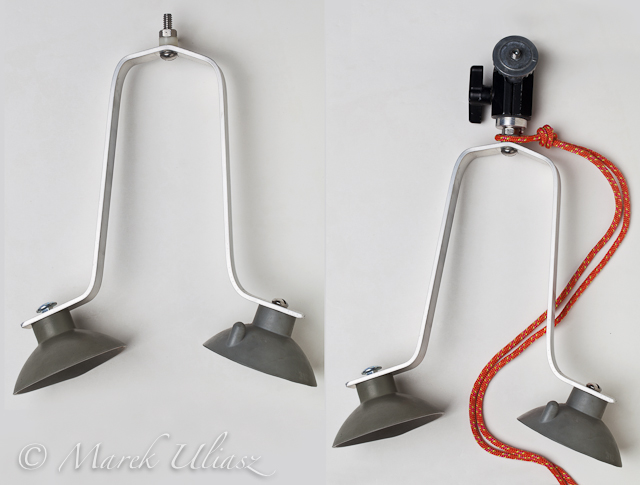 I added a small knuckle (ball head) to my mount. It provides easy way to control the camera position and is really useful for Pentax Optio or a similar camera. I needed a tripod mount adapter for the GoPro Hero. The knuckle is really not necessary in this case since a hinge allows for up and down camera adjustment, but it is still helpful. The picture shows the knuckle from Sticky Pod. I am also using a smaller and cheaper one made by Giotto.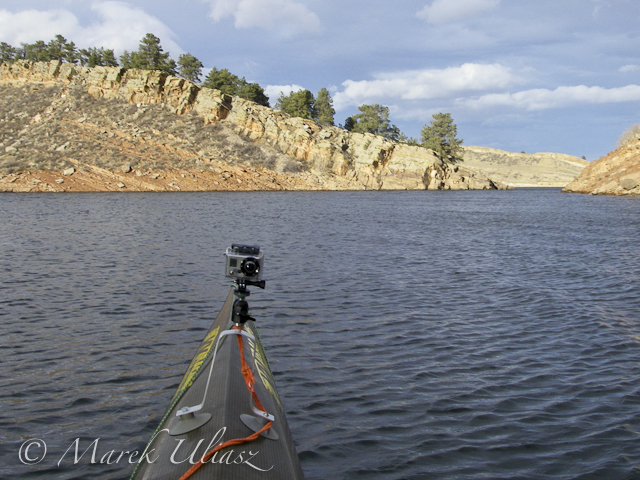 Here is the GoPro Hero camera mounted on the front deck of JKK Supernova kayak (shot from a cockpit with Pentax Optio W30) and some pictures from a January paddling on the Horsetooth Reservoir. The mount worked fine in very windy conditions. The camera mounted about 12″ above the deck is less likely to be hit by water splashes from my paddle.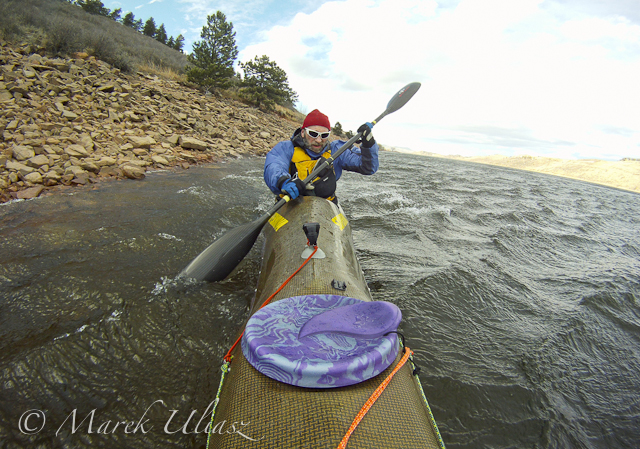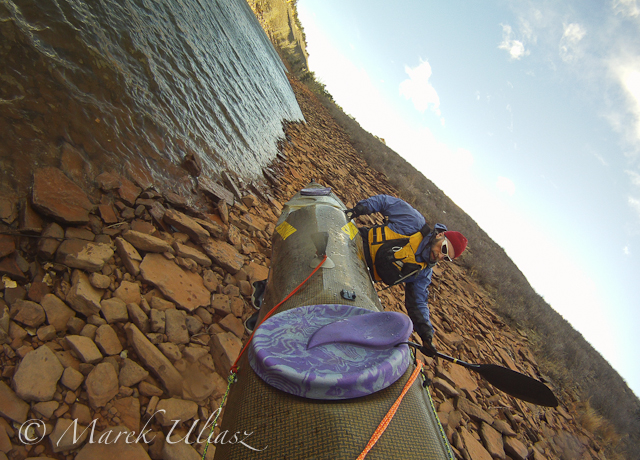 During another paddling workout on the Horsetooth I set up the GoPro Hero a little closer to the cockpit, see picture examples here and here.
Related posts:
A Bird's-Eye View of Kayaking with GoPro Hero Camera
Kayak Video Camera Mast – Sticky Pod Combined with Monopod
Paddling with Canon PowerShot G11 Camera on a Monopod Mast
A New Shooting Angle – Camera Video Mast on Thunderbolt Kayak
Sticky Pod Review – A Suction Cup Camera Mount for Kayak Photography
South Platte River with GoPro Hero HD Camera and Thunderbolt Kayak
A Simple Suction Cup Mount for Garmin Forerunner 305 GPS
Did you like this? Share it: